Dining at
Crowne Plaza Amsterdam-South
Enjoy our selection of dining & entertainment options in Amsterdam by choosing one of the restaurants and bars in our hotel or one of the many top restaurants in Amsterdam.
Discover the best Amsterdam restaurants
Amsterdam Bar and Terrace at Manhattan Lounge
As an extension of our classical jazz theme, Manhattan Lounge Bar is your go-to cocktail bar in Amsterdam, offering signature cocktails, as well as all the classics, wines by the glass and local beers to enjoy. Whether you're relaxing after a busy day, or enjoying one of our music or social events, try some of our tasty food including the famous Dutch Bitterballen and enjoy a great night out.
Cuisine:    International
Serves:     Breakfast, Dinner, Events
Terrace:   Yes
Hours:     Tuesday-Saturday 9:00 – 00:00
                 Sunday-Monday 16:00 – 00:00
Happyhappyjoyjoy restaurant with large terrace
Are you looking for an Asian restaurant in Amsterdam? Happyhappyjoyjoy is a bright and colourful signature restaurant modelled on the liveliness of Asian hospitality. It presents a wonderful brewing pot of exotic aromas and bold colours. You will surely get pulled in with all the authentic and complex flavours that the Far East has to offer.
Cuisine:    Asian street food
Serves:     Breakfast, Lunch, Dinner, Events
Terrace:   Yes
Hours:     Monday – Friday 12:00 – 23:00
                 Saturday 13:00 – 23:00
                 Sunday 13:00 – 22:00
Have you had a tiring day and don't feel like going out for dinner in an Amsterdam restaurant? Our kitchen is also open for in-room dining. The full menu can be consulted on your TV in your room, and offers the comfort of all your favourites delivered to your door. Room service is available from 12:00 until 23:00 and a shorter menu is available 24/7.
Serves:    Brunch, Lunch, Dinner
Hours:     12:00 – 23:00
We have a lot of other great options for food, snacks, and deliciousness. Our hotel is full of resources but we also know how to appreciate the tasty options Amsterdam restaurants have to offer.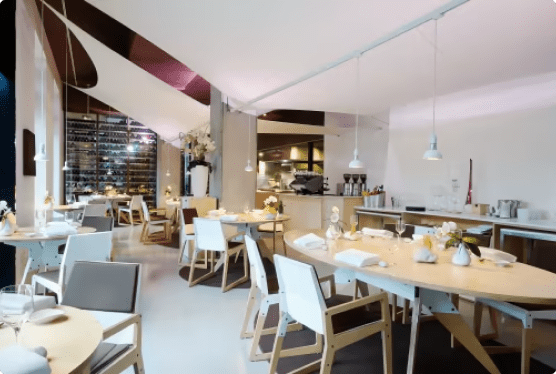 Let's not forget about the most important meal of the day. We offer a large buffet with cold and warm dishes as well as a "a la carte" menu. Good morning!
Feeling like having some wine, chips, chocolate or a nice tuna wrap: the small store in the lobby is open all day, all night, thank to its self-checkout system.
Crowne Plaza guests get an extra course for free when dining at Bolenius, a Michelin-star restaurant in Amsterdam across the street. Ask the reception to book.
Our team is composed of a lot of locals and expats, passionate about food. Discover their top recommendations on where to eat in our Amsterdam city guide.