Change of décor: welcome to Asia!
Asian themed
Private Room
Not all meetings should be the same, and that include to change a bit the scenery sometimes. 
And we have exactly what you need for that: the Asian Boardroom.
Located in the heart of Happyhappyjoyjoy restaurant, this boardroom can welcome up to 14 people. Among the lucky cats, you will find a digital screen to show your presentation or slideshows.
Combine your meeting with some happy food! We can totally serve lunch, diner or even delicious Asian street food snacks during your meeting. Fresh still and sparkling water is included with all our rooms. The room has 2 big windows with natural daylight, one of the overlooking the water and the other one giving to the large terrace of the hotel. 
Bonus: this room is equipped with a Karaoke system. We heard singing Jolene Jolene is the best ice breaker! Please confirm.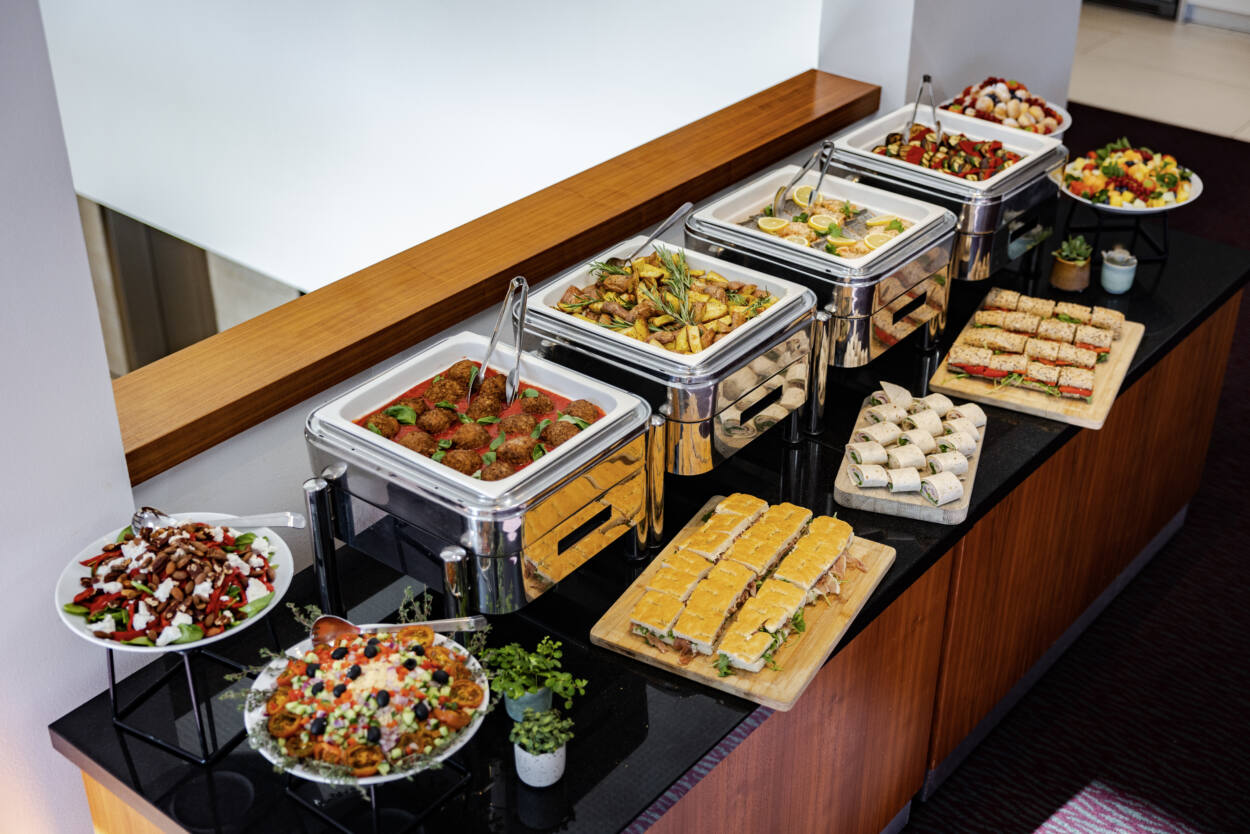 Contact us about your event now
Are you interested in planning a meeting in the Asian Boardroom or any other room? 
Great! Let's get to business and start planning your event at Crowne Plaza Amsterdam-South! Click the button below to send us an email or call +31 (0)20 504 3614 to get in touch with our Meeting specialist. 
We are looking forward to discussing your event with you.
More information about Asian themed Private Room!
Get ready to embark on an extraordinary event experience with our Asian Boardroom – a private oasis that brings a touch of excitement and cultural immersion to your meetings. 
Unleash the Asian ambiance: Step into the heart of Happyhappyjoyjoy restaurant, where our Asian Boardroom awaits. This unique venue is designed to transport you and your guests to a world of vibrant colors, intricate decor, and an authentic Asian atmosphere.
Tailored for exclusivity:

Enjoy the privacy and intimacy of our private room, catering to gatherings of up to 14 people. This exclusive setting ensures a focused and immersive experience for your team or clients.

Dynamic presentations:

Present your ideas with flair using our digital screen, allowing you to showcase engaging presentations, slideshows, or videos. Capture the attention of your audience and make a lasting impact.

Culinary delights:

Elevate your meeting by combining it with a culinary journey. Indulge in the flavors of Asia with our delectable lunch or dinner options, or delight in Asian street food snacks that will keep energy levels high. Immerse yourself in a multisensory experience where taste and creativity converge.

Natural light and scenic views:

Embrace the natural beauty that surrounds you as you conduct your meeting. Two large windows provide ample natural daylight, with one offering picturesque views of the water and the other opening up to the expansive terrace of the hotel. Immerse yourself in the serenity of the surroundings and feel inspired.

Unleash your inner performer:  As a bonus feature, our Asian Boardroom is equipped with a Karaoke system. Break the ice and infuse some fun into your event by serenading your colleagues with a rendition of "Jolene Jolene." Confirm your interest, and let the harmonies of laughter and camaraderie fill the room.

 
Unleash the magic of the Asian Boardroom and create an event that will be remembered for years to come. Reserve your spot today and prepare to embark on a captivating journey of flavors, creativity, and unforgettable moments.