A perfect place for mid-size events! 
Book the meeting room Square for your meetings up to 55 people.
This room is a twin room of Times meeting room with 42 seats in theatre style and 20 seats in boardroom style. It is an ideal option for a middle size events such as presentations or talks. A large projector and control panel are available for you as well as natural daylight and floor-to-ceiling windows. Lunch area is also directly accessible form this room. Fresh still and sparkling water is included with all our rooms. Would you need anything else, like a coffee break with snacks, a digital screen for your Powerpoint, a conference call system or a flipchart, let us know. We can have it arranged for you.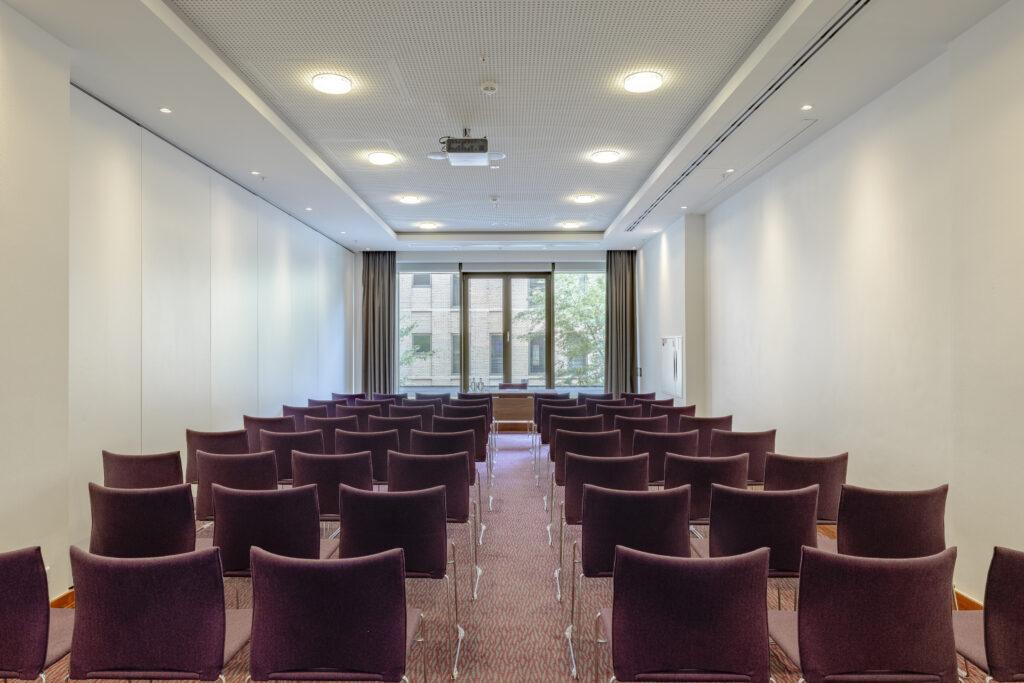 Contact us about your event now!
Are you interested in planning a meeting in the Avenue meeting room or any other room? 
Great! Let's get to business and start planning your event at Crowne Plaza Amsterdam-South! Click the button below to send us an email or call +31 (0)20 504 3614 to get in touch with our Meeting specialist. 
We are looking forward to discussing your event with you.
More information about Square!
Get ready to experience the versatility and style of our meeting room, Square! With a capacity of up to 55 people, it's the perfect space to host your next dynamic gathering. 
Double the possibilities:

Square is the twin room of our renowned Times meeting room, offering the same exceptional features. Choose from 42 comfortable seats in theatre-style or 20 seats in boardroom-style, providing flexibility to suit your event's unique needs.

 

Amplify your impact:

Engage your audience with the help of our state-of-the-art large projector and user-friendly control panel. From captivating presentations to immersive multimedia experiences, Square ensures your message is delivered with maximum impact.

 

Embrace natural brilliance:

Soak in the natural brilliance that floods through the floor-to-ceiling windows, infusing the room with an invigorating ambiance. The abundance of natural daylight creates an inspiring atmosphere that keeps your team motivated and energized throughout the day.

 

Convenient lunch area:

Need a quick refuel during your meeting? Square offers direct access to a dedicated lunch area, ensuring a seamless transition from productive discussions to a well-deserved culinary break.

 

Quench your thirst for success:

Stay hydrated and refreshed with our complimentary still and sparkling water. It's the perfect accompaniment to keep your ideas flowing and your team focused.

 

Customized enhancements:

Elevate your meeting experience with additional services tailored to your needs. Whether it's a delightful coffee break with delectable snacks, a digital screen to enhance your dynamic PowerPoint presentation, a conference call system to connect with remote participants, or a flipchart for collaborative brainstorming sessions, simply let us know. We'll bring your vision to life.

 
Prepare to embark on a journey of creativity and collaboration in our captivating Square meeting room. It's time to make your meetings more than just business – let's make them extraordinary! Reserve your spot today and get ready for an unforgettable experience.